4 Hacks to Supercharge Your Productivity this Holiday Season
You know the holidays are here when you see your social media feed flooded with the red Starbucks coffee cups. The month of December is almost upon us, bringing with it the craving for hot chocolate and eggnog. It truly is a wonderful time. But for most businesses, it's the busiest time of the year.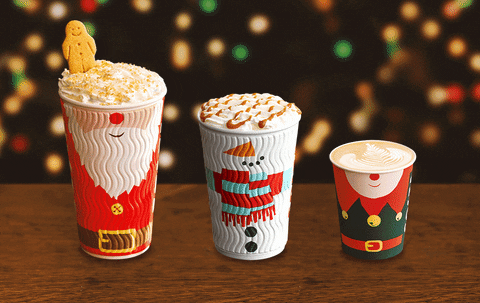 Getting work done during this busy time can be difficult as you have parties to attend, gifts to buy, eggnog to drink and consequently, productivity takes a dip. But with Freshsales, you can tweak your daily activities so that tasks are done in an easier and faster way. As a salesperson, you can be on holiday and also stay on top of how your business performs and oversee every action.
Here are 4 hacks to power through the holidays:
1. Create Zaps between two different apps
As a business, you may be using multiple apps and have information residing within each of these apps. You could be using CRM software to track your daily sales activities, collect leads using Google Forms or Wufoo and use an internal messaging tool like Slack. But these apps perform individual functions and they do not talk to each other, for example, you cannot receive CRM notifications within Slack.
That's where Zapier comes in. With a quick zap, you can connect different tools with each other. You can have a zap that creates a lead in Freshsales when a person fills out your website form.
For instance, here's how you can set a zap to receive a notification on Slack each time a lead is created in Freshsales.
2. Set up meetings easily with Calendly
Setting up a meeting at a convenient time with attendees from across the globe is often a challenge owing to the flurry of emails that need to be sent back and forth. It is difficult to decide on a time that works across time zones.
There's an easier way. Using Calendly, you can set your availability preferences and share the link via web or email to the attendees. When a lead schedules a meeting via Calendly, it will be added to your calendar and an email will be sent out to both parties.
What's even better? If a lead accepts a meeting through Calendly, they are added as a contact in Freshsales.
 3. Say Hello to Trello!
When a deal is won, there are a bunch of activities that need to be done—raise an invoice, assign a customer success agent to the deal and more.
These are individual projects involving various teams and creating these projects manually would be time-consuming.
Make project management easier with the Trello-Freshsales integration. So when you update a deal, a card is automatically created inside Trello. You can set rules to choose the board and list to which the card is to be added, and also the salesperson to whom the task has to be assigned to.
4. Do mo' on the go!
You're on your way to your cabin in the woods, and you hear back from your prospect. Guess what? You forgot to attach the pricing document to your email! You look for your laptop but wait, who carries their laptop during vacation!
That's where the Freshsales mobile app comes in. Available on the Andriod and iOS platform, the Freshsales mobile app allows you to carry your CRM with you, wherever you go.
The best part?
With a single click, you can call and email your leads right from the CRM and these conversations are automatically logged to the lead's profile.
We hope you liked our hacks on how you can increase productivity during the holiday season with Freshsales. We'd love to hear yours. Share your comments below.
Happy Holidays!
Cover illustration by Anandh Ravichandran
Subscribe for blog updates
Thank you for subscribing!
OOPS! something went wrong try after sometime